Working at Heights Courses
Essential Training for Working at Heights
For any workplace that requires workers to work at heights including using ladders
Employers have a duty to ensure their workplace is safe, and this means controlling the risk of falls from any height. Analysis has shown that the risk of injury from a fall increases significantly for falls from two metres or more. The prevention forms part of the WH&S regulations which applies when there is a risk of a fall from one level to another.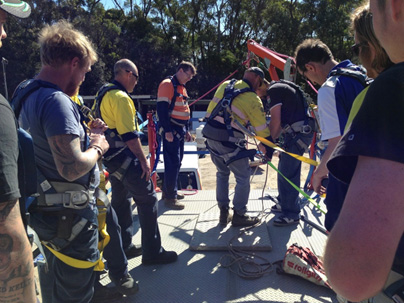 Typical falls that cause death and injury include those resulting from:
Using unsafe or incomplete scaffolds
Inappropriate ladders/ladder use
Falling from or through roofs
Falls from trucks
Falls into holes, pits or shafts
Accessing shelving
Accessing mezzanine areas

Falling from height is the major cause of fatalities in the construction industry.
Over 50% of all falls from a height of 2 metres or more result in death or serious injury. All such deaths and injuries are preventable.
We have a range of nationally accredited courses for working with heights covering virtually every training requirement in this area
We work with you and your employees to help embed the process of risk management as an integral and regular part of your business. When lives depend on you and you take your safety obligations seriously, Zokal is the obvious choice.